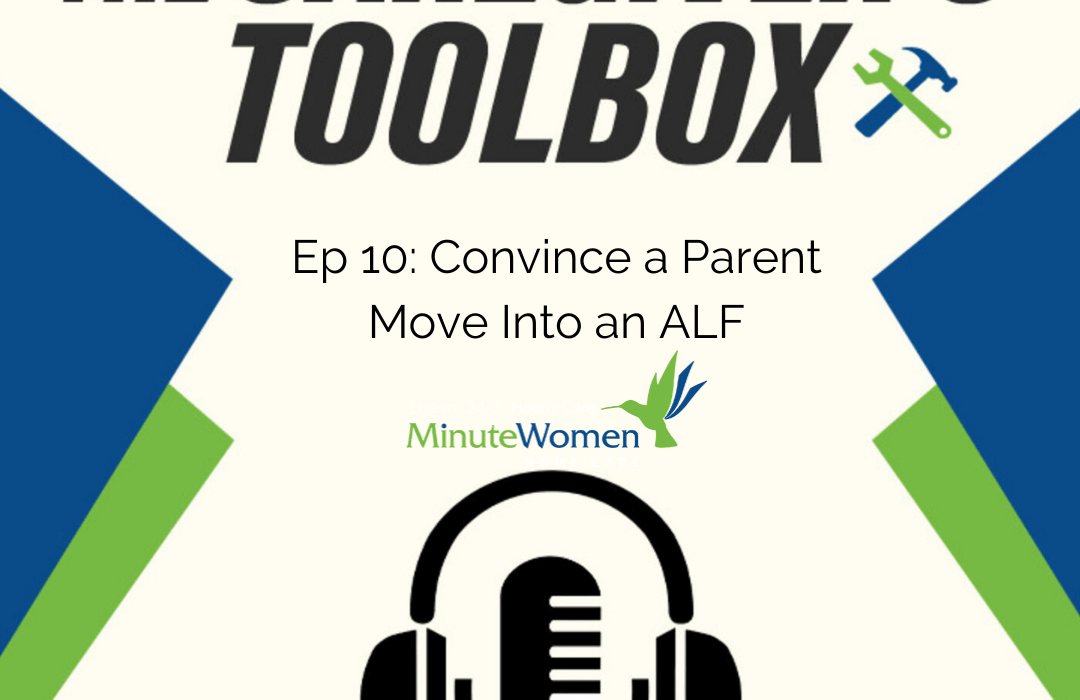 Caregiver's Toolbox Ep. 10 "Convince a Parent Move Into an ALF" on Apple Podcasts
Click here to view our Podcast Directory
Ryan McEniff:
Hello everybody and welcome to the Caregivers Toolbox, tools for everyday caregiving. We provide education for caregivers on senior care topics. In today's episode, episode 10, we're going to be talking about how to convince a parent to move into an assisted living.
My name is Ryan McEniff. I'm here with Janet. I've got to say, Janet, on the scale of one to 10 on the things that you don't really want to talk to your parents about, driver's license, taking those away, maybe moving into a nursing home, and then right up there is getting private home care or moving into an assisted living. Those aren't fun conversations to have, wouldn't you say?
Janet:
Absolutely because here are the roles reversed. You're the parent and they're the child.
Ryan McEniff:
Of course somebody will reach out to us and say, "My mom moved in and she was thrilled to moving into an assisted living." I think for the majority of people they're going to have a different conversation and have a different experience with their parents. When we're dealing with maybe a parent that's not too excited or how do we approach the subject, things like that, what is the first step involved in talking to a parent about this?
Janet:
You need to plant the seed. You need to give them some sense of maybe this is something you should consider and give them some good ideas, or most importantly, listen to what they say as negative things so that you'll know how to plant other little seeds and try and reassure them of some of the things they're concerned about.
Ryan McEniff:
I would say next is after planting that seed, capitalizing on maybe some of the positive things that have come out of the conversation you've had is now next offer a tour of some local places. When you're looking at a tour of a local place, before you go out, once you go on Google Maps or you go look on the internet, make a determination on whether you want to look at places close to your parent's home or do you want to look at places close to your home because then you can visit them that much more often. If you live 20 miles-30 miles away from your parent, maybe you want to consider bringing them to an assisted living that's closer to where you live. That way you'll be able to see mom or dad pretty regularly. That's getting a little ahead of ourselves when you're looking at doing a tour.
Janet:
That's a good point though, because it can go one way or the other. Is the family more tie … Is the the loved one more tied to you or are they more tied to their community? Maybe friends are going to visit. If they're not then it may not matter where it is.
Ryan McEniff:
Absolutely. We've gone, we've toured a couple facilities. What do you think is the next thing that we need to look out for?
Janet:
The kind of things you want to do, look for teachable moments. Look for opportunities where maybe it was a big deal to make dinner or maybe laundry's a lot and say, "Wouldn't it be nice if you didn't have to do that and you had more free time to read your book," or something like that. Look for those little nuggets of things that would make their life easier to be in an assisted living.
Ryan McEniff:
Again, you never want to really push this too hard unless this is an emergency that needs to occur. To be quite frank with you, if an emergency is going on and assisted living is not going to be the solution to that emergency generally. If dementia is caused being that much of an issue you can always supplement it with private home care until you find the right assisted living for what you're looking for. Assuming we're not into an emergency situation another option that a lot of people don't know about is looking at respite care for an assisted living.
You might be able to talk about respite care just for a minute and explain it more because you worked in an assisted living. What respite really care is is it's really just a short-term amount of time that somebody's in a facility for. Roughly where you worked, how long was a respite case for?
Janet:
A lot of times a respite might be like 30 days. In some cases it can be stretched. It does one of two things. It both helps to see how your family member might adjust but it's also true in some cases you think this is a good situation for them and they need services that are not provided by assisted living and it's not going to work long-term. You don't want to have made a big commitment that it's not the right environment for them.
Ryan McEniff:
Absolutely. That's where respite care situation, "Hey Mom, Hey Dad, I know you're a little apprehensive about it. Let's give it 30 days. Let's give it a shot, see what happens. If you don't like it you can always come home." What do you think is the next step in this whole situation?
Janet:
If there seem to be open minded, see if you have places that maybe some of their friends or a family member knows about or has been to. I can remember an instance where it was oftentimes assisted living residence grew up in that community. You can even sometimes have staff there that knew them or saw them in the grocery store. It's nice if there's a familiar face or there's a familiar surrounding or they can look out the window and see something they recognized. The town clock can be a selling point if they can look out the window and see that. It's not their house but it's familiar.
Ryan McEniff:
Absolutely. A big thing for anybody moving from their private residence into a community is stressing the privacy that's involved with it. Yes, you can be involved in activities. You're going to be … Your social life should shoot through the roof when you're in assisted living, those things, but you also have the ability to go to a quiet room and read. You can go to your own room, close the door and you don't have to do anything for the whole day if you're just not feeling up to it. Letting somebody know that, yes, it's a community but you still are going to have a room that has four walls and a door that you can shut and turn off the world for an afternoon if you just need to take a break and you don't feel like being social. I think a lot of people are concerned that privacy or lack of privacy is going to be an issue when they move into a community like that. That's something that I think is important to stress when you're having this conversation.
Janet:
Most assisted living, with the exception of in memory care unit, they also have a frig and a little mini kitchenette. Sometimes people will have their own coffee in the morning. It's not like you have to be with all the kids at camp and everybody does everything together. I think some people are afraid of that if they're not social butterflies.
Ryan McEniff:
Absolutely, absolutely. When we're looking at other aspects, what else should we look for when we're talking about assisted livings and trying to convince a loved one to try it out?
Janet:
The things that they won't have to do to free themselves up. They don't have to do laundry. They can if they want to, but they don't have to do their laundry. They don't have to worry about clearing the driveway. They don't have to worry about getting out to the mailbox. If they've stopped driving they don't have to worry about going to the store because they have shuttle buses that do outings and they go down to the supermarket and you can get what you want and bring them back. Those are things that they're used to doing, they're independent, and that independence can be maintained.
Ryan McEniff:
The last thing that you can do is it's the old saying, "You can bring a horse to water but you can't make it drink." You're bringing a horse to water. You're showing somebody through the door but you can't force them to go through it. You just need to let this type of stuff sink in. It might take a week, it might take a month, it might never really happen. You never know. Let it sink in because you have to remember, even though maybe in your heart of hearts you feel like you're doing the right thing for your parent and you're trying to protect them, this still has to be their decision. This is still their money. This is still their life and they can live it the way they really want to, wouldn't you say?
Janet:
I would. It's funny because, again, it's like the reversal of a young parent that leaves their kid off at school for the first time and mothers dying wondering what's going on with their child. The child's at school having a blast. You're feeling bad because they're there when maybe they have just that right fit. When you go visit ask them how it's going. One of the best things you can do when you think they are adjusting is ask them to give you a tour of the place and then you'll really get to see where their comfort level is.
Ryan McEniff:
We won't name names in this, but your old employer I've been into that assisted living a number of times, and regardless of the care that they have, which is fine, the care is good there, but the building itself feels much older. Where I'm going with this is new constructed assisted livings do not feel like assisted livings whatsoever. They look fantastic. This is coming from an owner of a private home care company. They look fantastic. They have so many different amenities that you can have. They have outdoor areas that you can sit at. They have a bar inside that you can get a drink at. They have a fully stocked restaurant. They have amenities out the wazoo that really make the place into a community. It feels like you're walking into a four star hotel or a five star hotel rather than walking into a nursing home. What has your experience been?
Janet:
Absolutely, and it's not … There's someone there to help you for anything that you need. There's even rooms set aside, like you said, for reading, for games. Some people that like to Skype with someone across the country said, "You don't even have to know how to use the computer. There's a staff person that'll sit you down, set you up, and work with it if you want." They do a lovely job of landscaping and there's music. It's really a very relaxed environment. It's specifically designed with it's colors and it's lighting and it's fabrics to feel comfortable and cozy, and yet you have your own things in your apartment so it's a familiar thing hanging on the wall and a familiar bed and a familiar bedspread. It's a nice combination of the two and that works for people.
Ryan McEniff:
Absolutely. That was one thing I just wanted to mention was you can walk into one place and it may have not been, I might be a building that's much older but some of these new construction buildings just look fantastic. Hopefully you found this worthwhile. This was on how to convince a older adult, a parent, to at least consider an assisted living, if not move into one. My name is Ryan McEniff. Janet, thank you very much for taking the time to explain this.
Janet:
My pleasure.
Ryan McEniff:
Again, this is the Caregivers Toolbox, tools for everyday caregiving. Our new episodes come out every Tuesday. If you want to reach out to us we are on Twitter at MW Home Care. Thank you again for listening.
Connect With Us
Subscribe to The Caregiver's Toolbox Podcast