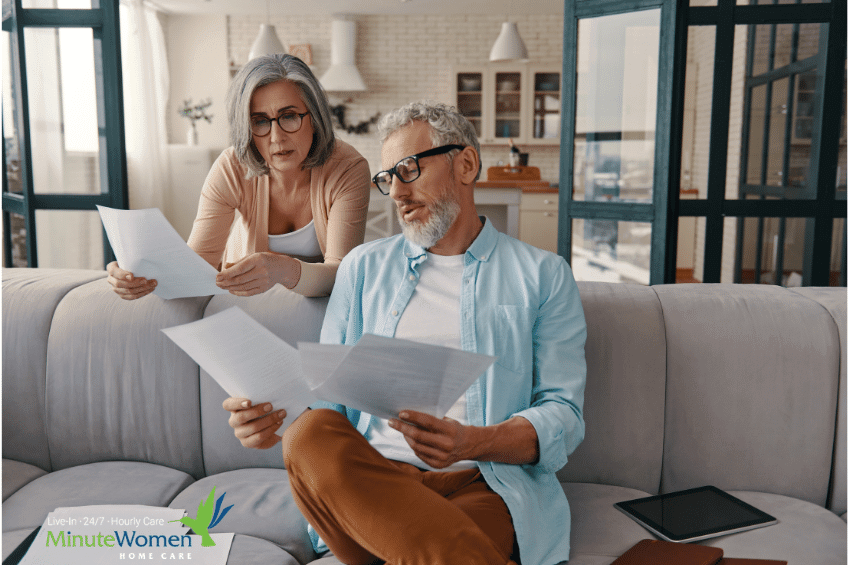 We received a private home care call from a possible client that needs 1-on-1 care for his 100-year-old mother, who fell and broke her hip. She is dealing with a discharge from a rehabilitation facility in three days, and the family is completely overwhelmed to the point of not being able to make a decision.
When speaking with this gentleman, it was clear he knew nothing about the options of private home care services or any services for that matter. I find that so many families are unaware of their options when a crisis like this occurs.
There are many options for senior care; adult day, VNA, Medicare, assisted living, senior housing, independent living, and nursing homes all provide personalized support.
So I wrote up what I thought everyone must know about senior care services so that if something happens, you have a solid understanding of your options.
Private Home Care Costs
1. Most private home care involves out-of-pocket expenses.
2. Private insurances generally will not cover the cost of home care.
3. Veterans Aid & Attendance is an option many people do not consider. VAA can reimburse up to $2,000 per month of home care costs!
4. Veterans, their spouses, or widow is eligible for VAA.
5. Long-Term Care Insurance can cover home care costs.
6. Some private home care companies can bill your LTC insurance company directly, so you do not wait for reimbursement.
7. Private home care costs add up quickly but are usually less expensive than other hospitalization and rehabilitation costs, especially if out of pocket.
8. If you are interested in finding out the cost of assisted living, nursing homes, and adult day centers in your city, see the Genworth Cost for Care Study.
9. Though unlikely, look at your private insurance company to see if they reimburse the cost of elder home care.
10. Medicare and Medicaid usually do not cover long-term care costs of private home care, and there are limits to how much they cover in nursing home rehabilitation centers.
Types of Private Home Care
11. Respite care is available for short durations of time.
12. Hourly care is generally in blocks of 3-4 hours to twelve hours shifts.
13. A night sitter is available where the caregiver is awake (hourly cost) or asleep (flat-rate).
14. The transportation service is not a taxi. When we drive seniors to their homes, escort them to their event or meeting, and then move them home safely.
15. Live-in care is the most economical way to maximize the amount of care you get for the cost of private home care.
16. Twenty-four hours a day, hourly shifts (usually split between two twelve-hour shifts) are the most expensive private home care but provides maximum coverage.
17. VNA or Medicare Home Care provides home health aides, nurses, physical therapists, and occupational therapists.
18. However, this therapy generally only lasts an hour a day, a handful of times a week.
19. VNA or Medicare home care is not a substitute for private home care. They exist to supplement each other.
20. Aides provide non-medical home care for patients. Nurses can provide medical care.
21. Private home care works with adult daycare, assisted living facilities, and nursing homes. (You can read more about working with other senior care options here.)
Private Caregivers
22. There are companion caregivers. These aides provide supervision, meal preparation, and companionship services.
23. Caregivers should all be background checked, reference checked, driving history checked, interviewed, and trained before being placed in a case. Ask if they are.
24. Home health aides provide more personal care, such as hygiene and cooking, while also able to help with basic companion tasks.
25. Nurses are needed for medication administration, wound care, IVs, and diabetes management.
26. Aides and companions are often hourly workers, but there are flat rates for overnights or live-in care.
27. Nurses are commonly paid on a per-visit basis but are there to do only one task no matter how long it takes.
28. The majority of caregivers, aides, and nurses are female.
29. Caregivers are there to provide care at a moment's notice. They can clean up after meals but are not there to be a house cleaner.
30. Many caregivers come from other countries but are still required to speak clear English.
31. If working with an employment agency, you should expect your caregivers to be insured, trained, and bonded.
32. Caregivers can work with seniors in their home, assisted living facility, or nursing home.
Private Home Care Scheduling
33. Private home care provides very flexible care options that meet your needs.
34. It is challenging to fill cases that are less than the minimum 20 hours per week. The reason for this is caregivers are doing this for their livelihood and are looking for consistent work. Having less than 20 hours a week means the likelihood of the caregiver looking for another case and leaving increases.
35. The more hours you request, the more caregivers are interested in the case, and the more consistent caregivers are.
36. The fewer hours for a case, the harder it is to fill the case.
37. There can be cost differences between weekend shifts and weekday shifts. It depends on the home care agency.
38. Aides do get overtime pay if they work over forty hours a week. So large (40+ hours a week) cases require multiple caregivers to prevent this from occurring.
39. Cases can take a few minutes to a few hours to fill. It all depends on how many aides are interested, how quickly they return our calls, and how desirable the case is.
40. Agencies can change schedules from week to week. Predictable schedules are more common, but fluctuating schedules are not uncommon.
41. A fluctuating schedule does require more caregivers than a set scheduled case.
42. Emergencies happen, and things change quickly. You will not be at fault for something you can not control, but please let us know if things change as soon as possible.
Private Home Care Responsibilities
43. Private home care companies can take checks, credit cards, or bill trusts.
44. Upfront deposits are common in private home care cases. Depending on the payment method, this can change the sum of the deposit.
45. Most private home care companies want to meet with families first. This introduction is partly to inspect the condition of the household.
46. Contracts can change from company to company, but because of the nature of caring for people who are sick or injured, there should not be a binding agreement for a set amount of time or overall cost.
47. Home health aides should not touch medication (they can provide medication reminders) because of the liability involved in making a mistake.
48. Speaking of liabilities, home care companies will insist that lifting a person's total body weight requires two people to prevent injury.
49. More than likely, you will be charged to reimburse mileage if a caregiver provides transportation for errands for a senior in the caregiver's car.
50. We are here to help in any way we can. Our first goal is to find the proper care for you or your loved one, whether with us or with someone else who's a better fit.
Connect With Me
Subscribe To My Podcast