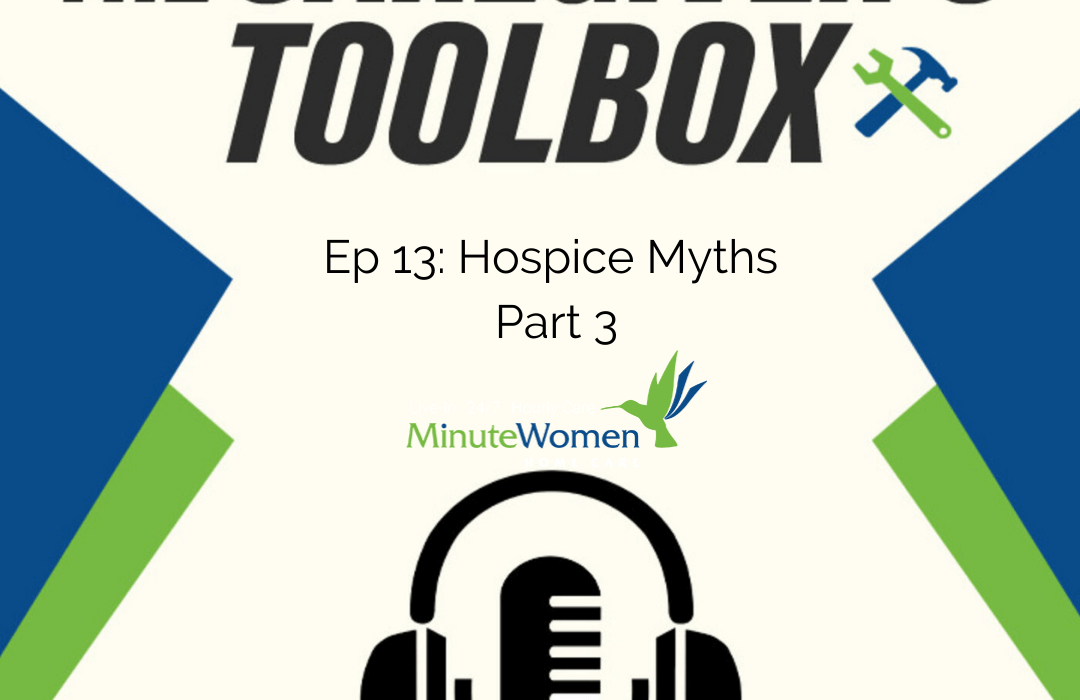 Caregiver's Toolbox Ep. 13 "Hospice Myths Part 3" on Apple Podcasts
Click here to view our Podcast Directory
Ryan McEniff:
Hello everybody. And welcome to the Caregiver's Toolbox podcast, tools to help you with everyday caregiving. My name is Ryan McEniff, the owner of Minute Women Home Care. And today we're talking about hospice myths, part three.
Hello, everybody. And welcome to the Caregiver's Toolbox, tools for everyday caregiving, where we give you tips, information, and education on senior care topics. And today we're in part three of our three part series on hospice myths. And I'm here with Deb, who is a hospice liaison in the Massachusetts area. Deb, how are you?
Deb:
I'm great. How are you?
Ryan McEniff:
Doing very well. Let's get right into it. The third to last myth deals with your primary care doctor and hospice, and how does that work, and what is this myth, and why is it a myth?
Deb:
So it's a myth because people often believe leave that when they choose hospice and start their benefit, that they can no longer receive care from their primary doc. And in fact, their primary doc remains a really big part of their care. It should be a coordination between the hospice team and that doctor. So if a nurse is out doing a visit, feels as though some meds need to be changed or tweaked, they'll talk with their hospice medical director who will in turn speak with either the hospice medical director, or the nurse will go back and speak with that patient's doctor. They know them best. They've seen them for a long time. And just because they're in their end of life journey doesn't mean that they can't benefit from their service. So Medicare, Medicaid, private insurance will continue to pay that doctor to be involved.
Ryan McEniff:
And with a primary care doctor, how often is it that the primary career is the one writing the, prescription's the wrong word, but writing the notes that somebody's eligible for hospice? Does that happen often?
Deb:
Yes, it does.
Ryan McEniff:
So you're getting directed right from the primary care doctor to go in there and start providing your services. So it only makes sense that they would be involved in every step of the process.
Deb:
Exactly. Part of the eligibility criteria requires that two doctors sign off on that the patient is eligible and that continues to happen. Every re-certification, they need two signatures.
Ryan McEniff:
All right. And so that dispels that myth, and then the second to last myth is that hospice care is expensive for the patients and the family. And so, I know that it's not, but what do most people think about this, and who is paying for hospice care?
Deb:
So sometimes families and or patients feel that this is a service that they're going to have to pay for. And in fact, it's a service that's covered by Medicare, Medicaid, and most private insurances have some type of a hospice benefit. For those that are over 65 years of age, they're entitled to their Medicare benefits, which cover virtually all hospice services. And depending on where the care is provided, like if it's provided in their private home, or in assisted living, hospice will actually cover some of the meds and equipment that currently, the patient and or their family is paying out of pocket for. For those that are under 65 and can't access their Medicare benefit and are using a private insurance, they'd need to check into, and usually the hospice will do this for you, but check into and see what they do provide. Sometimes it's not as global or expansive as Medicare will cover, but they will have some type of a hospice benefit,
Ryan McEniff:
But usually it's not as good in your opinion, as the Medicare coverage provides, or-
Deb:
It varies provider to provider. Some say that they'll only pay for hospice at home. Some say that they'll only pay for a certain number of days. Where under Medicare, hospice is unlimited at this point, as long as you can show that there's been changes and that the patient is continuing to decline, then Medicare will continue to pay for hospice.
Ryan McEniff:
Gotcha.
Deb:
And without insurance, accessing that end of life care would actually be pretty expensive to do out of pocket.
Ryan McEniff:
I'm sure it is. Nothing in the healthcare industry is inexpensive anymore.
Deb:
Absolutely true.
Ryan McEniff:
And so the final one on this kind of shorter podcast, but wrapping it up is going to be the final myth. "My loved one died sooner because of hospice." What do you think about that myth? And what's the truth behind it?
Deb:
Well, first of all, I know that there's nothing that hospice does that either hastens or prevents death. What hospice does is care is focused on alleviating symptoms and pain, and then allowing that end of life journey to continue naturally. I think because it is that end of life, and it's emotional, whether you know it's coming or not, and you have hospice, it's still an emotional time for families. And I think sometimes doctors, other medical professionals may say, "Oh, they have, two months left, three months left, three weeks left," whatever it might be. And there's no crystal ball when it comes to medicine. And so sometimes families hang onto what they thought they had. And then when it's over the assumption is that something in the care that they received caused a quicker demise when in actuality, sometimes just alleviating those pain and symptoms causes somebody to be at peace and they can let go sooner. But there's been studies done that show that patients with hospice services actually live longer.
Ryan McEniff:
Well, that's good to know.
Deb:
Yeah.
Ryan McEniff:
I know that when it came to my mom, that we were told anywhere between eight months to a year, it ended up being three months to four months of when she stopped taking treatment and the cancer had spread and she had, given up might not be the right word, but she had accepted that-
Deb:
She changed her focus.
Ryan McEniff:
Yeah. That we weren't going to win this battle, and dragging it out six months or dragging it out a long period of time and continuing suffering wasn't the way that she wanted to go. So I certainly can relate to people that get a diagnosis, and everybody wants a diagnosis from a doctor of, "Give me exactly how long we've got," like, "How long do we have to go?" And that's impossible. I'm sure you see people that are on hospice for years, that they should have been dead years ago. And they just, whatever reason, it just keeps on going.
Deb:
Right. The body's an amazing vessel. And I think sometimes it's emotional. People aren't ready to let go. Sometimes they have someone they want to say goodbye to, and sometimes they're just ready. They're tired.
Ryan McEniff:
Yeah.
Deb:
And there's no way of predicting that. And we tell people when we meet with families and patients that there's no crystal ball, that our knowledge is their knowledge, and when we see that somebody's declining, we'll let them know. But sometimes, there's no sign of that.
Ryan McEniff:
Excellent. Well, thank you very much for your time.
Deb:
Thank you for having me.
Ryan McEniff:
And whenever we have hospice questions, you will be our go-to expert.
Deb:
Excellent.
Ryan McEniff:
So thank you very much for listening to the Caregiver's Toolbox. We appreciate it. Our episodes come out every Tuesday, so you can expect to hear from us next Tuesday. Thank you, and have a great day.
Thank you for listening to the Caregiver's Toolbox podcast, which is brought to you by Minute Women Home Care Services located in Lexington, Massachusetts. Call us at 1844-BEST-CARE if you have caregiving questions or needs. For comments regarding the podcast, find us on Twitter. Our handle is @MWhomecare. Thanks again, and we look forward to hearing from you.
Connect With Us
Subscribe to The Caregiver's Toolbox Podcast